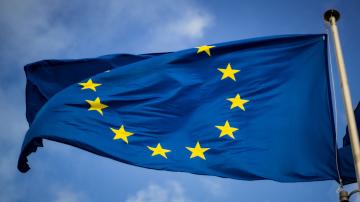 In the second year of the PGE master's program, EM Strasbourg students take courses in a chosen major in order to begin specializing in a particular field. Lucille Benza, a student in the International & European Business (IEB) major and former president of the International Student Association at EM Strasbourg, tells us about her experience.
Hello Lucille,

can you introduce yourself?
"I come from the south of France and graduated from economic preparatory classes in Gap, in southeastern France. So, I took the Ecricome entrance exam to enter EM Strasbourg. In my second year, I chose the IEB major, which is taught completely in English and chosen by many international students. In addition to my studies, I was president of the International Student Association in 2021/2022."
Can you tell us about the

courses in the IEB major?
In the second year of the PGE program, students have courses common to all second-year students and courses specific to their major. The core curriculum consists of general courses: students learn about finance, product and brand management, operations management, intercultural management, and languages. Students in their second year at EM Strasbourg must also complete a case study in line with their major. There are also learning activities common to all students in the second semester: the personal and professional development seminar with Cap Career and the strategic business games.
In the IEB major, in addition to the core curriculum, students have specific courses like International Strategy, International Consumer Behavior, Digital Divide, Introduction to European Economy, and The Government of the European Union.
"Regarding the courses, I found them extremely interesting. They allowed me to learn more about my country as well as the European Union. They also allowed me to broaden my horizons while acquiring different skills, especially in marketing and management. I also learned a lot about cultural, technological, and lifestyle differences."
How was your

case study?
"It had to be carried out in English. In my case, I was part of a group of two students, and our objective was to make a case for the potential effectiveness of an eco-score for clothing. We wanted to rate the ecological impact of each garment produced using different criteria (such as the use of drinking water, nonrenewable energy, or fuel). Then, we wanted to show it to consumers in order to raise awareness and change consumer behavior.
I learned many things, especially in terms of the importance of visual elements in the way we think and make choices and the mentality of people we interviewed. However, I would say that it was complicated to get organized and carry out this project with only two people, but we succeeded because we complemented each other well."
Can you tell us about

the connection between your major and your association?
Lucille was able to live an international experience while studying in Strasbourg because in addition to being in the IEB major she was president of the International Student Association of EM Strasbourg. The aim of this association is to promote internationalism within the School by welcoming international students, by organizing trips for students, or by organizing events that include both EM Strasbourg students and exchange students (e.g., trips to Europa Park).
"I just think I've been lucky to meet a lot of international students, and it's made me grow. I learned a lot from them, and it was really a great experience."
And now,

what are your plans?
"Regarding my short-term study plans, I'm going to do a professional gap year, so I'm currently looking for an internship. I will study at a foreign university the following year, with the goal of earning a dual degree. Otherwise, in terms of my long-term career plan, I'm still undecided, but I would love to work in the diplomacy and marketing field."
 
The IEB major allows students to develop their skills while opening themselves up to foreign cultures, which can be a real asset in their professional life and personal life.