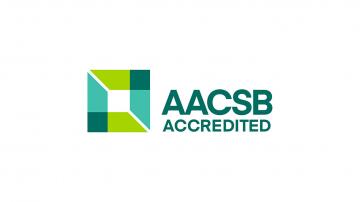 EM Strasbourg Business School has once again been granted AACSB accreditation for a period of five years. This international distinction, first awarded to the School in 2015, attests to the excellence of EM Strasbourg's programs of study. It strengthens the School's status as a major player in higher education.
After earning the British AMBA accreditation in 2020, EM Strasbourg has again been rewarded internationally with the AACSB reaccreditation. The School is part of a very limited circle of business schools boasting three accreditations (AACSB, AMBA, and EFMD Accredited Master).
The AACSB accreditation, issued by the Association to Advance Collegiate Schools of Business, validates the School's strategy as a whole. Only 5% of business schools in the world hold this highly demanding accreditation based on a rigorous evaluation. The main criteria include faculty qualifications, available resources, and the relevance of the educational approach.
"The ACCSB accreditation recognizes the in-depth work carried out by EM Strasbourg to strengthen the quality of its programs and services and to boost its social, cultural, and disciplinary openness. This groundwork has been centered around our values—ethics, sustainable development, and diversity. The award goes hand in hand with our strong momentum in international rankings such as the Financial Times (up four spots in 2020."

Herbert Castéran, Dean of EM Strasbourg Business School
In its report, the peer review team commended several aspects of EM Strasbourg:
• • The governance and overall strategy of the School. During its audit, the peer review team met with staff who "appeared highly motivated and very dedicated to the School's mission." Moreover, the auditors praised the smooth transition and continuity of programs during the health crisis.
• The School's internationalization strategy bolstered by its many partnerships with foreign universities and dual degrees. The peer review team notably underlined the warm welcome EM Strasbourg reserves for international students and visiting professors.
• The European course set known as CLUE, which "reinforces in a flexible and original way its European and cross-cultural character". CLUE validates student participation in mandatory activities aiming to raise awareness of intercultural management and the European economic context and to enhance proficiency in English. This course set is common to all programs of study (from the undergraduate to the master's level).
• EM Strasbourg's network of companies and its cross-border specificity The auditors were particularly impressed by EM Strasbourg Business Club, which brings together 220 companies contributing to the success of the School. "This is a very precious asset that can be leveraged to reinforce the School's reputation and financial resources," stressed the peer review team.