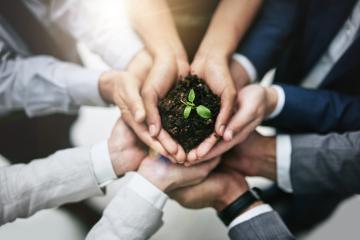 Sarah Richard, associate professor at EMSBS, leads the new research cluster Climate Responsability in and of Organizations. She took a moment to answer our questions about the creation process and upcoming projects.
 
Can you introduce the cluster and its members?
The Climate Responsibility in and of Organizations cluster is a transdisciplinary research cluster focusing on the climate responsibility of organizations. It brings together research lecturers who are members of the School's two research centers: HuManiS and LaRGE.
The cluster includes the following individuals:
The interdisciplinary aspect is essential in the creation of this cluster because there is a real desire to analyze the different topics that will be tackled through the prism of several fields of management sciences.
What are the main research themes of the cluster?
Initially, the cluster was supposed to focus on the topic of eco-anxiety, a term that refers to experiences of anxiety related to environmental crises. After discussion between members, a decision was made to broaden the topic to climate responsibility to allow for a greater diversity of research work.
Climate responsibility is a source of multiple tensions, with stakeholders (individuals, organizations, politicians) having diverse objectives and interests in the various solutions being considered to mitigate climate change. With this in mind, we have chosen to use the theoretical framework of tensions and paradoxes as a central theme.
We have noticed a lack of interdisciplinarity in the work already published on this subject. Through this cluster, we aim to make the antecedents and consequences of climate responsibility more understandable by linking different levels of analysis: micro, meso, and macro.
 
How will you center all your research areas around this theme?
Firstly, we made a conscious effort to link areas by choosing the theoretical framework of tensions and paradoxes, which is particularly relevant when considering the phenomenon of climate responsibility. Since climate change concerns all areas of management and climate action requires collaboration at all levels (micro, meso, and macro), it was natural to create a team of experts in management areas operating at these different levels. The members of the cluster represent the different fields of management and bring together the theoretical expertise needed to study climate responsibility.
Secondly, since we are numerous, it would be difficult to work together on a single project. We will therefore start by brainstorming and selecting together the most relevant ideas. Subgroups will then be created according to the affinities and levels of analysis of each project.
 
What are the motivations behind this project?
Most of the members of the cluster have already carried out work related to Corporate Social Responsibility (CSR) and more specifically the environmental aspect. Joining this cluster is therefore a perfect extension of their research and will allow them to establish new collaborations with researchers interested in similar subjects.
As for me, it's a little different. My main research topic covers disability, the integration of minorities, diversity, etc. I am therefore more focused on the social than the environmental aspect of CSR. With the creation of this cluster, I wish to discover a new field of literature and thus bridge the gap between my work on vulnerability and new projects related to environmental issues.
 
What are the cluster's medium- and long-term objectives and projects?
Once the topics and subgroups are clearly defined, the goal is to identify academic journals and research conferences that are interdisciplinary enough to accommodate multiple fields and then to present our work in order to become part of a scientific community and create partnerships.
We also wish to make a real effort to popularize our work by organizing conferences for the general public and by creating educational material. A growing number of business schools and universities are beginning to recruit faculty members who conduct research on environmental issues, which will increasingly feed into teaching resources in the coming years.
In the long run, our aim is to help EMSBS further strengthen its positioning as a firm supporter of sustainable development.
Thank you for taking the time to answer our questions!